Current Top Issues
Activated hopping in ultrasoft cluster crystals
Ultrasoft potentials (potentials bounded at r=0) can, under the appropiate conditions, crystalize into a multiple occupancy crystal. This novel kind of material has many surprising characteristics. Among them, activated hopping is the main mass transport mechanism. A particle can be thermally activated and gain sufficient energy to abandone it's host cluster and hop around the crystal until it finds a new hosting positions. In our contribution we show how normal Molecular Dynamics (MD) simulations overestimate the scope of this mechanism, and how a faithfull inclussion of the hydrodynamic interactions with the solvent via a suitable simulation technique (Multi-Particle Collision Dynamics, MPCD) dramatically shortens the length and the amount of the trajectories followed by the hopping particles.
Published in J. Phys.: Condens. Matter 25, 195101 (20123)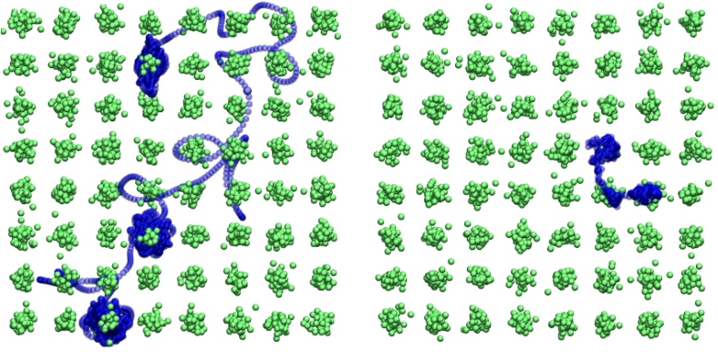 Typical trajectories in the same setup for a hopping particle when, (left) in an MD simulation and (right) in an MPCD simulation.
Self assembly scenarios of patchy colloidal particles
Patchy particles can form a wide variety of solid structures, depending on the decoration of the particles with patches and system pressure.
Published in Soft Matter 8, 3767 (2012) and J. Phys.: Condens. Matter 24, 284124 (2012). Also featured in a recent press release by the Vienna University of Technology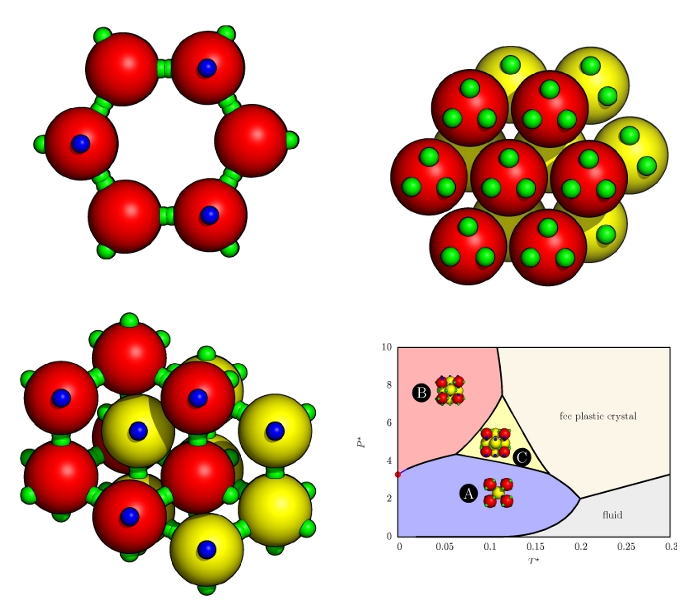 Some examples for the structures we identified using a novel combination of methods. Bottom right: phase diagram for tetrahedrally symmetric patch decoration.
Contact Information
Institut für Theoretische Physik
Technische Universität Wien
Wiedner Hauptstrasse 8-10/136
A-1040 Wien, Austria
Tel : +43 1 5880113632
Fax : +43 1 5880113699
E-mail : gkahl(at)tph.tuwien.ac.at